Made in USA
SplitRock Guitars is an authorized dealer for Joe Barden Engineering and offers one of the the very best Tele bridges on the market at a great price!

We are glad to offer two versions of the Joe Barden Tele Bridgeplate with compensated saddles: American Standard (fits most modern-style Telecasters) and Vintage. Hex wrench included.

Joe Barden Vintage Telecaster Bridge FREE U.S. Shipping!
| | |
| --- | --- |
| SALE PRICE: $54.95 | |
Joe Barden American Standard Tele Bridge FREE U.S. Shipping!
| | |
| --- | --- |
| SALE PRICE: $54.95 | |
Joe Barden Bridgeplates and Saddle Kits

Joe Barden Bridgeplate and Saddle Kits for vintage-style Telecasters solve all of the structural problems and intonation issues inherent in the original parts.

The heavily plated Bridgeplate is made of the same material as the original, but slightly thicker, making the plate less prone to unwanted squeal. Using the originally spec'd material insures that the vintage tone and slightly microphonic nature of your Telecaster will not be lost.

In addition, the Bridgeplate features a Danny Gatton-inspired "scoop" at the front of the treble sidewall, a tremendous aid to fingerpickers who find themselves constantly hitting the plate while playing. The Bridgeplate has two additional mounting holes at the front edge to provide secure fastening at all four corners, if desired (use of these mounting holes is optional).

The new Saddles are also made to vintage specs, using the original brass material, but have their adjustment holes drilled at three different angles to provide correct intonation for all six strings, each of which requires a different saddle position.

As an added feature, the outside saddles are notched under the "E" strings, like the vintage '53 saddles. This notch helps correct the "loud outside string" problem common to many Telecasters, and adds additional height adjustment capability, while retaining an important and authentic vintage design spec.

Like Joe Barden pickups, these components are direct retrofits for vintage-style Telecasters, and require no modification to vintage instruments that would otherwise alter their unique vintage character.

The American Standard version of the Joe Barden Tele bridge fits most of the modern-style American Telecasters - American Standard, American Deluxe, American Series, etc. Please be aware that Fender has two American Standard Bridgeplate variations: 4-hole mount and 3-hole mount. The JBE one is the 4-hole mount. If your guitar has a 3-hole mount, the outer holes will align with those already in the guitar. However, the inner holes will not. You would have to drill two holes in the guitar body under the bridgeplate to mate with the two center holes (see picture here). JBE does not have a 3 hole version.

OUR SALE PRICE: $54.95 with FREE U.S. shipping!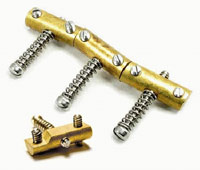 SPECIAL OFFER ---> SAVE BIG!!!

Joe Barden Telecaster Pickups Set + JBE Telecaster Bridge

We ship worldwide and offer FREE U.S. Shipping!

Choose Danny Gatton, Modern T or Nashville Set / Vintage or American Standard Bridge



Joe Barden Combined Set: Tele Pickups + Bridge

This is your chance to save big on the best and most popular Joe Barden Engineering products.

The combined custom set includes:

(1) Joe Barden Telecaster Bridgeplate with saddles - Vintage or Am Std
(2 or 3) Joe Barden Tele pickups - Gatton, Modern T or Nashville Tele

OUR SALE PRICE for Standard Telecaster package: $309.00
OUR SALE PRICE for Nashville Tele package: $409.00